Hand-made Dichroic Glass Designs
by Caroline Dyke
From her studio, based in Hampshire, UK, Caroline Dyke designs and crafts dichroic glass jewellery & accessories, specifically hand-making all the items you see displayed here on these pages.
Caroline has been working with glass for over ten years, developing her own technique in using the vibrant colours and layering the glass. Many of her inspirations come from walks in the countryside gleaning inspiration from the seasonal wild flowers to the autumn leaves.

Her fused-glass are a direct development of her designs and innovative techniques, combined with an understanding of colour which creates beautifully stunning and uplifting images that take full advantage of the inspiring unique qualities of the glass.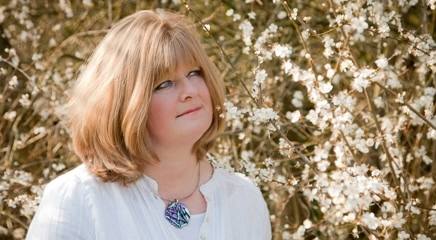 "I love the colours and simple shapes of the fused glass. Its nature dictates a naive quality that is instantly pleasing. I really enjoy the creative process, remembering the items and objects I am depicting. Opening the kiln still feels me with excitement at seeing the transformation from cut glass fragments into a fusion of coherent jewel-like colours."
Caroline Dyke - Blissimore Designs